Grants with a Purpose: Nicole Fitting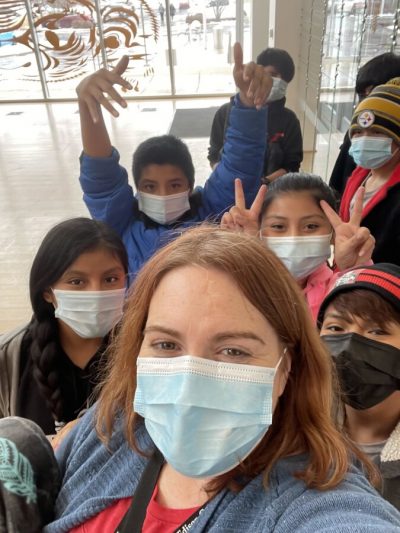 Imagine moving to a new country where your native language is not spoken by the majority, you are enrolled in school which previously you have only had limited access to, and on top of it all, you are between the ages of 11 and 13.
Sounds like quite a difficult transition to go through. Luckily, Nicole Fitting is here to help with the process.
Fitting is a fourth year MLL (multi-lingual language) and SLIFE (students with limited or interrupted formal education) teacher at Edison Middle School in Champaign, IL. She works to provide basic literacy and mathematics skills, along with lessons on how to navigate emotions and experiences, to kids who are trying to find their voice.
"They're trying to figure out who they are at this age," Fitting said. "I have the opportunity to let them know that it's okay and that this one day, this one action isn't the thing that identifies them for life."
Knowing how complicated the middle school experience can be, Fitting goes above and beyond for her students and has a passion for connecting with them by meeting them where they are at.
Not only has that entailed learning a bit of Q'anjob'al, the indigenous Mayan language spoken by many of her students, but also advocating for them by applying for financial grants that have allowed for field trips to Hendrick House Farm to learn about nutrition, for guest speakers to come talk about health and beauty techniques, and most recently the creation of a program that empowers students through prevention education.
This $500 grant from the Champaign-Urbana Schools Foundation went toward a pilot program called Mi Cuerpo, Mi Mente, Mi Fuerza (My Body, My Mind, My Power) with the goal of fostering a safe community for pre-teen girls to learn how to protect their health and wellbeing.
"We hope to help them recognize what their strengths are, teach them how the body works and how to have more power over their own bodies," Fitting said. "By the end of the semester, I hope to provide them with a self-defense class, and people who can teach them about consent and how to feel confident in their bodies."
Throughout the project, Fitting has partnered with Dr. Amanda Gray, a Title 1 Parent Liaison from FACE (Family and Community Engagement), who has coordinated guest speakers like Mandy Waggoner from RACES (Rape Advocacy, Counseling, and Education Services) and Whitney Greger, Interim Director of the Health and Wellness Program through CUPHD.
"I've seen this group of girls come together more and focus on the exercises and feeling strong in their bodies," Fitting said. "It's been nice to see that kind of growth and how the group has become more welcoming."
Fitting became aware of the grant opportunity from CUSF through a friend who used the money in a similar way and was drawn to apply because of the organization's priority on community growth.
"Champaign-Urbana is a big, yet small area and for people to be able to work together to create a community across counties and districts is super important," she said. "There need to be more opportunities for students to see that we honor people outside of academics and offer resources for them no matter what their background."
Grants with a Purpose: Michael Leonard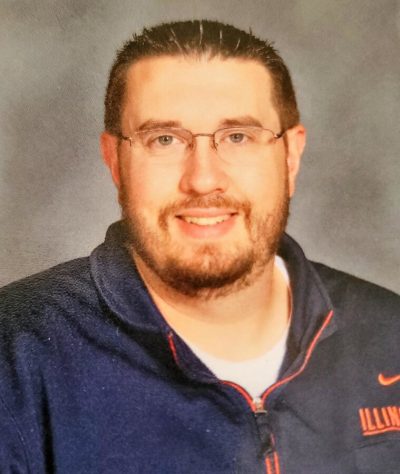 Teaching for Michael Leonard runs in the family.
Originally on the recreation & tourism management track in college, Leonard decided to switch paths and pursue teaching after volunteering in an elementary school.
At the time, his mother, who was a teacher's aide for over 20 years, as well as other staff who worked in the building suggested he give teaching some thought based on the talent and connection he showed with the kids.
Now, Leonard is in his 16th year at Jefferson Middle School in Champaign, IL after securing a job through his student teaching experience.
"I found out that special education was the most needed position," he said. "So, that's how I fell into it."
This year, Leonard is working with a number of students who have been diagnosed with ADHD and Autism and like in years past, he wanted to use the grant he received from the Champaign Urbana Schools Foundation to serve as both a constructive tool and reward.
Using the $250, Leonard was able to buy handheld items like fidget toys, pull-apart erasers, and Rubik's cubes, all things based off his students' interests for the year.
"Every week they will work to earn something," Leonard explained. "If we get our work done, then I offer some incentive time with the toys. I like to share the wealth, too."
Speaking of that, when Leonard received grants in the past from CUSF, he combined his totals with others to buy a set of Chromebooks for students, and another year used the money to purchase books for his co-taught classroom.
That said, Leonard explained how important the grants from CUSF are to him and other teachers because it brings public awareness to how much money teachers are spending out of their own pockets.
"It helps out not only the teachers, but the kids as well," he said. "It was awesome, too, how CUSF did the first-year teacher grants, so it's been an honor to work alongside them."
Not only has Leonard received several grants over the years, but he has also been nominated for Teacher of the Year, as well as serving as the CUSF Grant Champion for Jefferson the past few years.